Vintage Swift & Anderson Ships Bell 8 Day Brass Clock Made In Germany By Schatz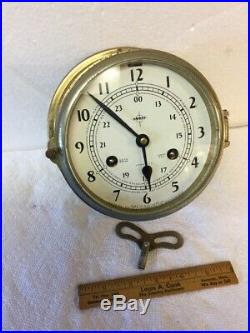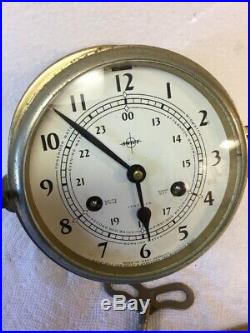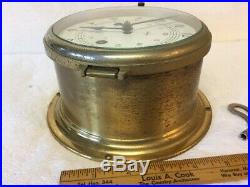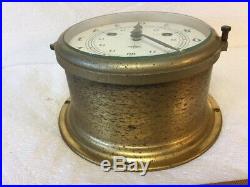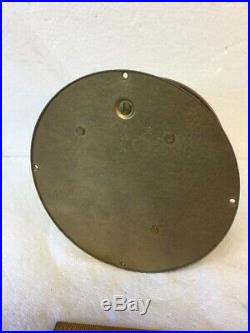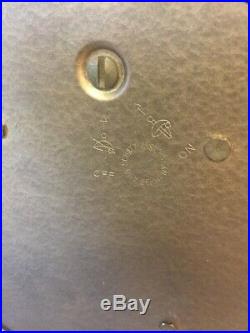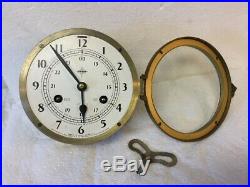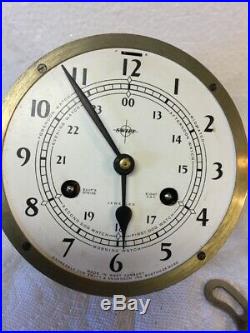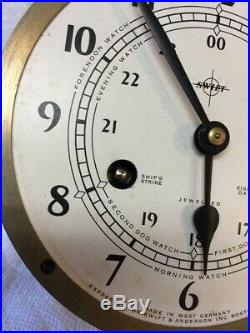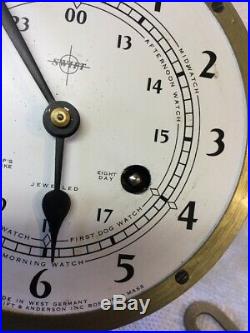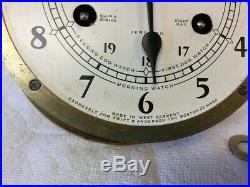 Vintage Swift & Anderson Ships Bell 8 Day Brass Clock Made In Germany By Schatz. The bezel is 5 7/8" across; the dial is 5 3/16" wide; the backing plate cover is 7 1/16" wide; it is 3 3/4" deep closed. Back cover is engraved Aug. It came with the key shown but I can provide one that fits better as I feel it needs a slightly larger size key. Both winding arbors feel great when I wound them so springs are fine. Clock started ticking right away and consistently and once I realized the back set screw had been set on silent I heard the bell chime strike fine. So it tests as working but should be cleaned and oiled as normal. Chimes may need some normal adjustments to set in proper sequence. Cosmetically it looks excellent - see my photos. The company known as Schatz was first known as Jahresuhrenfabrik. The company was founded by August Schatz in the mid-1850s in the Black Forest region of Triburg, Germany. It was registered in 1881 as Schatz & Wintermantel, and was re-structured in 1884 as Jahresuhrenfabrik A. It was registered again in1897 as Jahresuhrenfabrik GmbH, and finally in 1923 as Jahresuhrenfabrik August Schatz & Sohne. They produced cuckoo clocks, barometers, and 400- day clocks.
In later years, they produced electric clocks and battery- operated quartz clocks. The company struggled to compete in the early 1980s, and finally closed down in 1985.
In the late 19th century, August Schatz was working with inventor Anton Harder, and together they formed Jahresuhrenfabrik (Year Clock Factory) with the goal of making an accurate clock that only needed winding once a year. They were successful in making the 400-day, or Anniversary, clock, but it wasn't as accurate as they'd hoped. DeGruyter of Amsterdam, and they continued to make Jahresuhrenfabrik clocks, but for some reason they allowed their patent to expire.
Other companies took up the challenge of making the 400-day clock more accurate. The pendulum for the 400-day clock was the reason it didn't need to be wound so often. A pendulum spun at the end of a suspension spring allowed it to run much longer between windings than the eight days most clocks ran. The initial designs called for a flat-disk pendulum, which then evolved into the 4-ball pendulum that is still used today. American jewelers Bowler and Burdick marketed their 400-day clock as the Anniversary clock, and it became popular for people to wind their clock on a special yearly event like a birthday, or wedding anniversary. This also made the clocks popular gifts. The clocks were still relatively inaccurate.
Experiments were done to try to figure the best materials to make the pendulum out of, because the clocks were easily affected by humidity and temperature changes. This problem was solved when Charles Terwillinger of Horolovar Company invented the Temperature-Compensating Suspension Spring in 1951.
If this thin spring wasn't tuned just right, it could throw off the best timekeeping-engineering. 1926 Dorchester section of Boston.
Was a distributer of clocks, barometers and desk top items. The item "Vintage Swift & Anderson Ships Bell 8 Day Brass Clock Made In Germany By Schatz" is in sale since Sunday, November 3, 2019. This item is in the category "Antiques\Maritime\Maritime Clocks".
The seller is "spooknook" and is located in Weymouth, Massachusetts. This item can be shipped worldwide.
Primary Material: Brass
Maker: Schatz
Type: Ship's Bell Clock
Country/Region of Origin: Germany