Schatz Royal Mariner Vtg Ships Bell 8 Day Helm Clock +2s Nautical Yacht Decor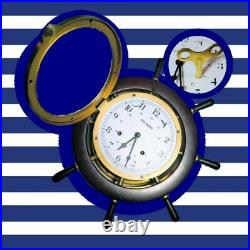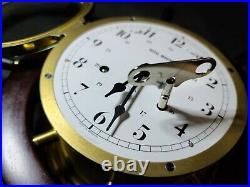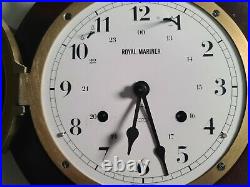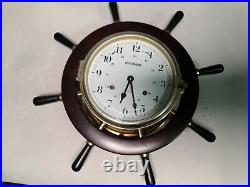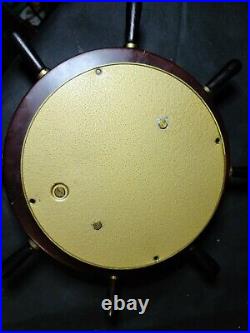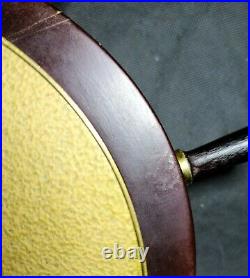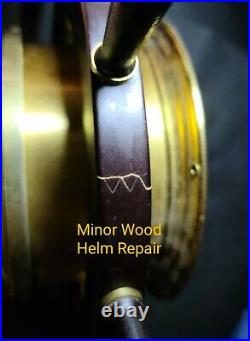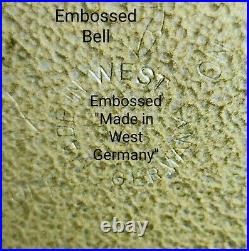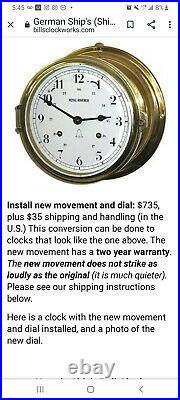 Made in West Germany embossed on back. The Schatz Royal Mariner Ships Bell 8 Day Helm Clock.
A Yaught Worthy Vintage Maritime Collectible! Wooden Helm Mounted 1 Brass Winding Key (Matching Gold Color) 1 Spare Winding Key (silver color).
Clock works very well when wound! Bell Works How & When it's Supposed To! Thick Glass Port Door Cover, secured by a brass scuttle clamp. No Loose Parts No Tarnishing of the Brass No Cracks or chips in glass cover Only Minor Scratches & Dings & 1 repair on top of Helm Mount, all of which are only visible if you are studying it very closely. Case Diameter 7" Clock face diameter 5" Clock Depth 4. These clocks appreciates in value every couple of years, so with care, it is an investment for any clock or sea/boat lover. It takes the conversion key type. Wind the clock fully every 7 days for optimum performance! (But the clock will actually run about 8 - 9 days on one winding). Turn key clockwise until it stops.
The right winder is for the time The left one is for the bell striking. Ships bell clocks will keep time to within about 2 - 4 minutes per week naturally, they are not as accurate as quartz clock mechanisms. Only if the clock is off more than 4 minutes. 1 Make sure both winders are being fully wound every 7 days. 2 Use the lever with the + and - symbols on the upper right side of the dial.
A Move towards + to speed it up b Move towards - to slow it down. Only make a very small adjustment each time, and then set the clock and test it for several days again.
The striking may be turned off by moving the lever on the upper left side of the dial to the "no bell" position. (Code) 8 bells: 12:00, 4:00, 8:00 1 bell: 12:30, 4:30, 8:30 2 bells: 1:00, 5:00, 9:00 3 bells: 1:30, 5:30, 9:30 4 bells: 2:00, 6:00, 10:00 5 bells: 2:30, 6:30, 10:30 6 bells: 3:00, 7:00, 11:00 7 bells: 3:30, 7:30, 11:30. Mariners have used a unique bell code to tell time at sea for hundreds of years. The code is based on the crews typical workday routine while the vessel is underway. Therefore, the day is divided into six four-hour periods that are each called a watch.
Similarly, the crew is broken up into three divisions. First Watch: 8:00 p. Mid-Watch/Black Watch: 12:00 a. Morning Watch: 4:00 a. Forenoon Watch: 8:00 a.
Afternoon Watch: 12:00 p. Evening Watch: 4:00 p. To rotate each divisions watch times, the Evening Watch is periodically divided into two watches. These are called Dog Watches because they dog the watch schedule for all divisions ahead by one watch period. The watch officer struck the ships bell every half-hour to apprise the crew of the time.
A single bell denoted the end of the first half-hour. 1 bell was added each half-hour. Eight bells, therefore, signaled the end of each four-hour watch. Due to Shatz going bancrupt in 1986, the clocks are no longer made, making them a rare collectible!
(Hermele bought the "Royal Mariner" name, however & produced them with Hermele movement). The item "Schatz Royal Mariner Vtg Ships Bell 8 Day Helm Clock +2s Nautical Yacht Decor" is in sale since Wednesday, December 30, 2020. This item is in the category "Antiques\Maritime\Maritime Clocks".
The seller is "matthewgevers" and is located in Fort Wayne, Indiana. This item can be shipped to United States.
Type: Ship's Bell Clock
Maker: Schatz
Country/Region of Origin: Germany
Primary Material: Brass
Original/Reproduction: Vintage Original