Chelsea Antique Ships Bell Clockcommander Model 6 In Dial1903red Brass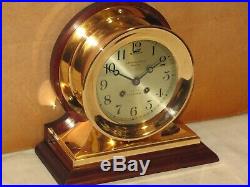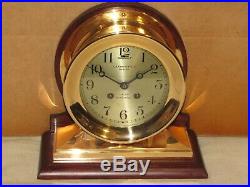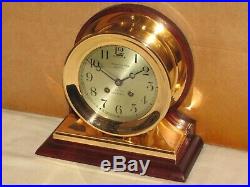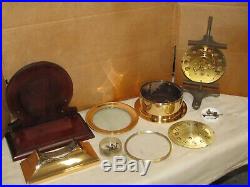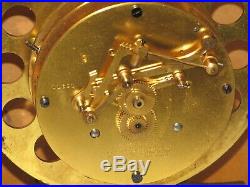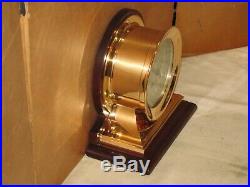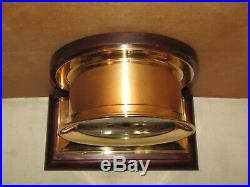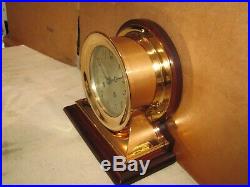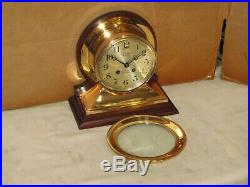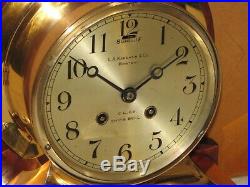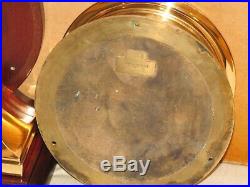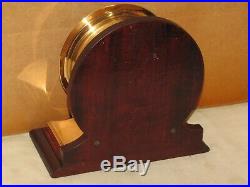 CHELSEA ANTIQUE SHIPS BELL CLOCKCOMMANDER1903. SELDOM SEEN EARLY CHELSEA COMMANDER MODEL SHIPS BELL CLOCK ALSO KNOWN AS MAHOGANY AND METAL , 6 INCH DIAL.
STUNNING RED BRASS CASE WITH MARINE THREADED BEZEL AND SILVERED DIAL WITH ENGRAVED ARABIC NUMERALS AND CLASSIC MOON HANDS. OF BOSTON, THE CITIES PREMIER CHRONOMETER AND WATCH MAKER OF THE DAY! AND THE DIAL CARRIES THE COMPANY NAME!! CHELSEA COMMANDER SHIPS BELL CLOCK.
WAS OBTAINED FROM A ANTIQUE DEALER IN. 1/2 INCH MARINE THREADED BEZEL ELEGANTLY PRESENTED ON A RED BRASS AND MAHOGANY MOUNT.
, CLOCK WEIGHS OVER 14 LBS! MAKE THIS A STUNNING NAUTICAL PRESENTATION!!! CHELSEA MADE THESE MODELS FROM AROUND 1903 AND ENDED PRODUCTION IN 1937!!
#011601 DATING IT TO 1903. THIS MODEL IS BECOMING MUCH MORE DIFFICULT TO FIND!
GLASS IN THE BEZEL IS ORIGINAL AND IN EXCELLENT CONDITION , THE CLOCK IS. IN EXCELLENT CONDITION AND ORIGINAL. THE CLOCK WAS DISASSEMBLED AND CLEANED AND RESTORED!!
THE CLOCK HAD NOT BEEN SERVICED RECENTLY , AS THE PIVOTS WERE VERY DIRTY. THE CLOCK IS IN EXCELLENT CONDITION, THE CASE WAS CLEANED AND POLISHED, AND.
SEALED WITH A FRESH LACQUERED FINISH!! IT IS RARE TO FIND A ANTIQUE 117 YEAR OLD COMMANDER SHIPS BELL CLOCK IN LIKE NEW CONDITION, CLASSIC AND GLEAMING A PLEASURE TO VIEW OUTFITTED WITH THE FINEST AMERICAN MADE, RACK AND SNAIL STRIKE 8 DAY MOVEMENT FULLY RESTORED , READY FOR A LONG AND HEALTHY LIFE. THE SHIPS BELL CAN BE GIVEN AS A GIFT OR FOR DISPLAY IN A SPECIAL AREA OF THE HOME OR ON-BOARD YOUR BOAT. VERY VERSATILE IN PLACEMENT FLEXIBILITY, AND AN EXCELLENT PRESENTATION IN LITERALLY ANY AREA OF THE HOME, WORKPLACE AND CERTAINLY ON BOARD YOUR BOAT. THIS IS A CLASSIC AND EYE CATCHING SELDOM SEEN RED BRASS SHIPS BELL STYLE CLOCK A DELIGHT TO VIEW, AND JUST THE RIGHT SIZE - EASY TO DISPLAY IN ANY DECORATIVE SETTING.
THIS CLOCK IS SURE TO PLEASE, I KNOW I WILL MISS IT IN MY SHOP. ON THE DIAL THE TIME MAINSPRING WINDING ARBOR IS LOCATED AT THE NUMERAL 4 AND THE STRIKE MAINSPRING WINDING ARBOR IS AT THE NUMERAL 8.
AT THE 12 IS THE SPEED ADJUSTMENT LEVER. ALSO THE CORRECT WINDING KEY IS PROVIDED.
THE SHIPS BELL STRIKE SEQUENCE IS AS FOLLOWS INCLUDING A BRIEF HISTORY. Mariners have used a unique bell code to tell time at sea for hundreds of years. The code is based on the crew's typical workday routine while the vessel is under way. The day is therefore divided into six four-hour periods, each called a watch.
Similarly, the crew is segmented into three divisions. To rotate each division's watch times, the Evening Watch is periodically divided into two watches. These are called Dog Watches because they "dog" the watch schedule for all divisions ahead by one watch period. A single bell denoted the end of the first half hour and one bell was added each half-hour. Eight bells therefore signaled the end of each four-hour watch. Like centuries of seafarers, you'll soon know the time when the clock chimes, even if you cannot see it.
Merchant vessels over 100 gross tons have, by law, divided the crew into three watches, working four hours on and eight hours off, and turning the dog watches into one evening watch. THE ONLY WAY TO ASSURE YOURSELF OF GETTING A FULLY OPERATIONAL CLOCK IS A COMPLETE DIS ASSEMBLY AND INSPECTION OF ALL COMPONENTS. I HAVE THOROUGHLY AND METICULOUSLY INSPECTED ALL ASPECTS AND FACTORY SPECIFICATIONS OF THIS CHELSEA SHIPS BELL CLOCK! THE AMERICAN MADE EIGHT DAY BRASS RACK AND SNAIL SHIPS BELL STRIKE MOVEMENT HAS BEEN PROFESSIONALLY INSPECTED AND CLEANED WITH ULTRASONICS AND RE-LUBRICATED.
BOTH THE TIME AND STRIKE MAINSPRINGS WERE UNLOADED, PROPERLY CLEANED AND INSPECTED, LUBRICATED, AND RELOADED INTO THE MAINSPRING BARRELS. MAINSPRINGS ARE A CRITICAL COMPONENT THAT TRANSMIT POWER TO THE ENTIRE GEAR TRAIN, PROPER MAINTENANCE WILL ASSURE EXTENDED AND RELIABLE LONG TERM PERFORMANCE. ALL OPERATIONAL ASPECTS WERE INSPECTED AND CORRECTED AS REQUIRED, ENSURING THAT THE MOVEMENT IS READY FOR MANY YEARS OF RELIABLE OPERATION. THE MOVEMENT WAS THEN PROPERLY REASSEMBLED, LUBRICATED AND ADJUSTED. I TAKE GREAT PRIDE MAKING SURE THAT EACH AND EVERY ONE OF MY CLOCKS IS METICULOUSLY RESTORED, HOWEVER.
The item "CHELSEA ANTIQUE SHIPS BELL CLOCKCOMMANDER MODEL 6 IN DIAL1903RED BRASS" is in sale since Monday, February 17, 2020. This item is in the category "Collectibles\Clocks\Vintage (1930-69)\Wall".
The seller is "msho3356" and is located in Allyn, Washington. This item can be shipped worldwide.