Antique Maritime Fog Ship Bell withPatina & Sound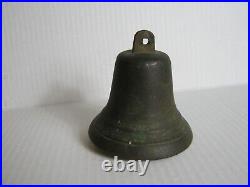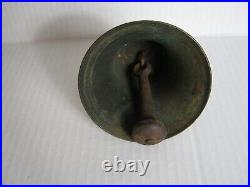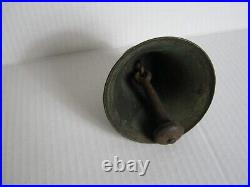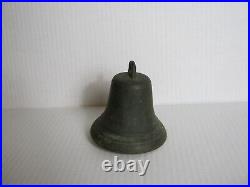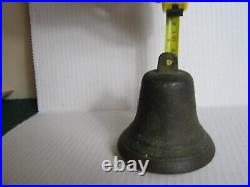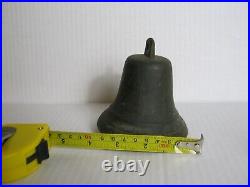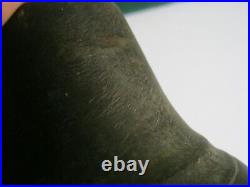 Measuring approximately 3 inches tall and 3 inches wide, this antique bell is an extraordinary piece that exudes history and character. Covered in scratches and bearing the signs of wear, this bell is a testament to its age and authenticity, telling tales of bygone time past. No cracks or chips, the bell stands as a durable and resilient relic from the past. Its rustic charm is enhanced by the distinct patina, adding to its vintage allure. What truly sets this antique bell apart is its exceptional sound - loud and quintessential. The bell carries an unmistakable resonance that captures the essence of its vintage charm. The bell's intact clapper, firmly attached, contributes to its resonant sound, producing a loud and true tone that fills the air with a sense of history and nostalgia. The massive mallet/clapper makes the bell sit with a unique tilt. Due to the oversized mallet, more common 100 years ago +. Its loud sound resonates with a timeless quality that will undoubtedly draw the happy attention from all who hear it. For antique enthusiasts and collectors, this bell is an absolute treasure. Its authentic wear and rich character make it a captivating conversation piece, holding stories of the past within its metal frame. Display this Exquisite Antique Bell with pride in your home, office, or any space you desire, and relish in its vintage charm and quintessential sound.
We hope this bell finds a great home where it is appreciated.