1950s Antique USA EMD Desiel Locamotive Railroad Brass Bell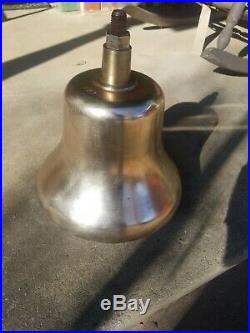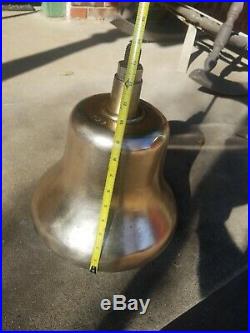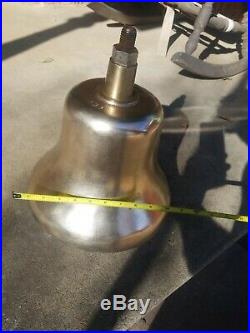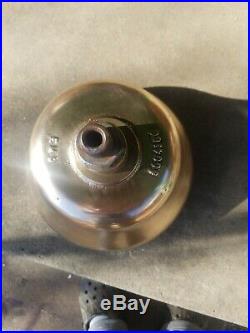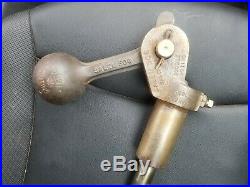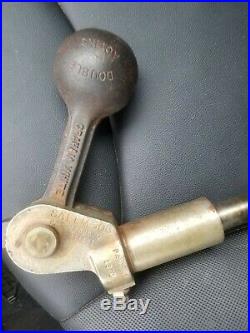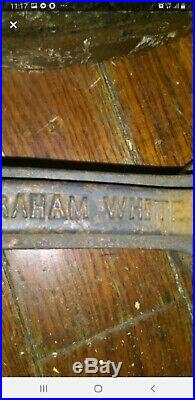 Late 1950s switch to steal cast bells. Often called a "bell brass" or "AAR bell brass", all nonferrous 12" diameter Electro-Motive bells were cast of a bronze alloy, and regardless of variation they all carry the same EMD part number, which is #8004156 the parts list description being "BELL..
Locomotive - 12 inch", later adding the word "Bronze to differentiate them from the then-new cast steel bells. EMD bells with a 12 inch diameter mouth have an overall height of approximately 11 inches, the latter measurement including a tapered stem having a 7/8 hole drilled through its axis. Shapewise, this stem is a frustum that is approximately 2 inches in height, the width being roughly 1.85" diameter at the bottom narrowing to 1.64" at the top.
Variations in manufacturing make these figures "more or less" measurements, but they are close enough for a quick identification. On the inside, EMD bells will have the area surrounding the 7/8" hole "spot faced" to a diameter of roughly 2.500", creating a flat bearing surface to accommodate an air ringer or an internal mounting. These stem and spot-face areas are the only two locations on an EMD bell casting that actually undergo precise machining operations. The oldest EMD bells are generally unmarked and found with smooth (or "ground") finishes. Although they may appear to be polished, closer examination of these bells will exhibit indications of fine grinding.
If a bell actually does have a very high or mirror polish, be advised that it has probably been polished by a motivated individual after removal from service, not by EMD or a common carrier. The smooth EMD bells all have an appealing, traditional shape to them, and they will also have a relatively sharp shoulder. This produces what is often called the "flat top" profile, although the top is usually not actually flat, but runs very slightly "downhill"? The shoulder may vary a bit in radius, but the basic proportions are held across production. Although they may look as if they have been profiled by a cutting tool in a lathe, smooth EMD bells relied on a grinding process to achieve final form (except for those machined stem and spot-faced areas already mentioned), so the body of the bell is almost never truly concentric.
Wall thickness can become extremely thin at random locations if an EMD bell is chucked in a lathe and actually cut with a tool, which is why it is not a recommended practice. More than one EMD bell has had a hole cut or torn in the side while taking a bit off the outside. Has it been done successfully?
But a successful job depends on an optimal bell casting, the correct machining setup and a skilled person doing the work. S, the finish of a locomotive?
S bell had become unimportant to Electro-Motive and most American railroads, thus the rough cast bronze bell replaced the smooth bronze bell, making the latter obsolete. As their description indicates, rough cast bells exhibit the texture of a typical sand casting. Though interchangeable and dimensionally equivalent with smooth bells where it counted, rough cast EMD bells have a somewhat less classic shape to them, with subtle changes in profile; the most noticeable change is a much larger radius at the shoulder. Because of this difference alone, a rough cast bell can never be simply smoothed down and made into a "flat top" variant (one would still need to add a lot of metal where none exists).
EMD rough cast bells almost invariably feature the initials "EMD" and the part number "8004156" cast raised (or "intaglio, " if you prefer) on their top surface. Both use approximately 5/16" characters on earlier castings, the part number increasing to 7/16" later on (leaving the initials still in the smaller size).
Evidence indicates that no factory-original EMD bell ever had a smooth finish in conjunction with a cast raised part number, so any encountered should be considered field modified. The physical quality of any of the above types of bells varies a lot-- some are quite good throughout, while others have a great number of casting flaws.
Whether smooth or rough, some bells were ground a bit more than usual in spots to remove inclusions or some other problem with the casting, and the more unfortunate ones may appear a tad "wavy" as a result... The smoother the surface, the more noticeable this usually is. Relatively few castings will be completely free of large voids, small pits, or areas ground away to remove some type of flaw. The stem area in particular may often have noticeable casting voids, yet such bells still generally hold up well in service.
Variations in castings play a large part in the tone of EMD bells, and there is a considerable variation in sound between bells that appear identical. Two random bells, cleaned and placed in identical mounts - and equipped with identical ringers - are unlikely to be identical in. Get enough of them in one place, and you will find close matches, but one point will stand: they are very individualistic. It is an occasional frustration to have either a bell that looks beautiful but sounds underwhelming, or a beat-up bell that rings wonderfully. I own an older flat top bell that was treated very badly over the years, but which has a marvelous amount of "sustain" to its ringing.
Keep in mind that 12 bells don? T have the size (which generally equals power) to rival their larger steam engine cousins. There will be no mistaking the carrying power of an EMD bell for a 16" or larger locomotive bell, so keep expectations realistic with regard to how "impressive" a 12" diesel bell is actually going to sound when it is all fixed up. The item "1950s Antique USA EMD Desiel Locamotive Railroad Brass Bell" is in sale since Saturday, November 16, 2019. This item is in the category "Collectibles\Decorative Collectibles\Bells\Metal".
The seller is "jamebanisterj-0" and is located in Oklahoma City, Oklahoma. This item can be shipped to United States.